This document will help you prepare your environment for the installation of your LobbyGuard SL. Review each item and verify that you meet each requirement to ensure an efficient setup and installation process. Please note this document applies to installations of the standard LobbyGuard SL. If you have any questions please visit lobbyguard.com/support.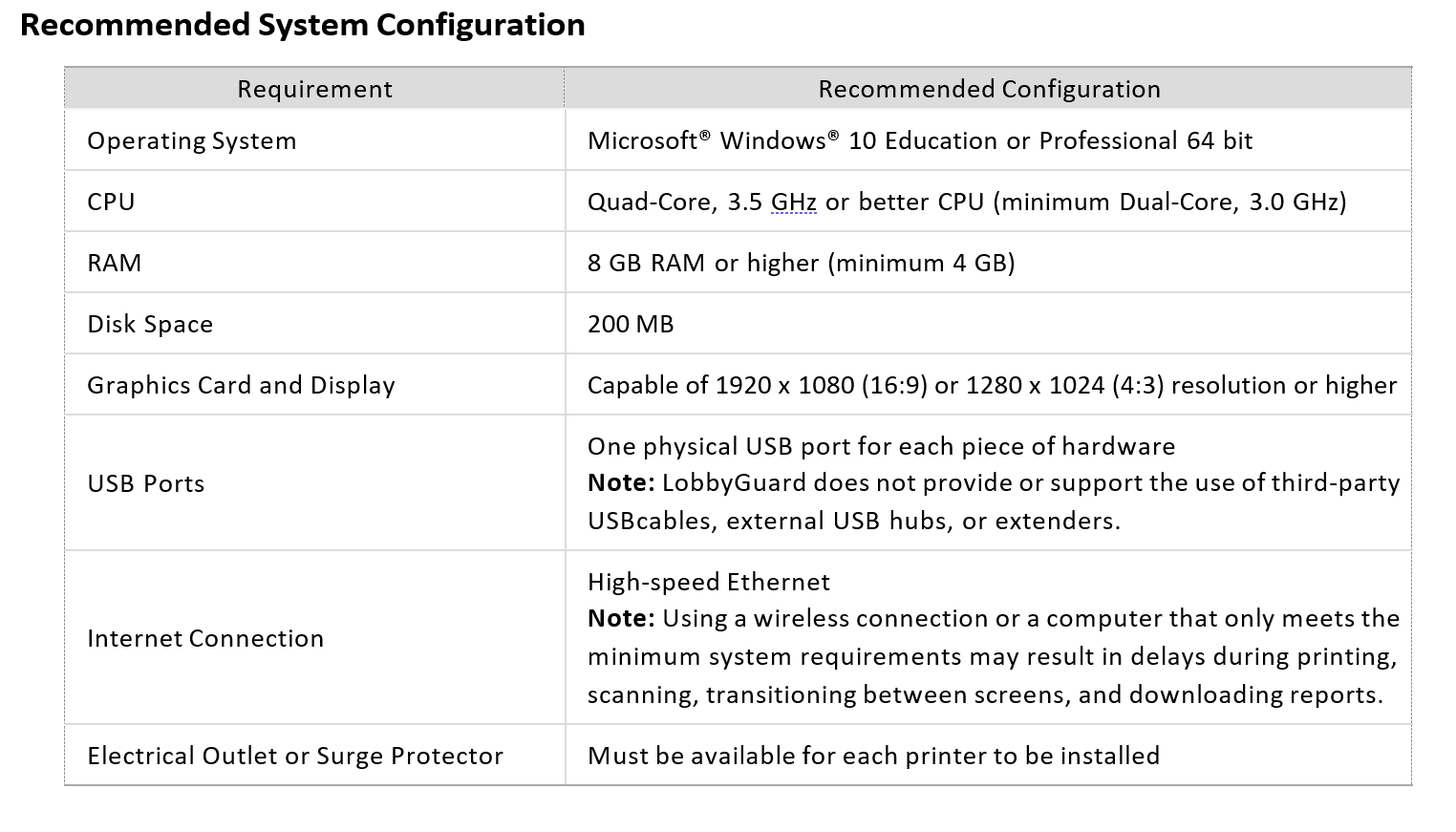 Any touchscreen or non-touchscreen monitor. If you are not using a touchscreen monitor you will need a mouse and keyboard. If you are using a touchscreen monitor we do not recommend using a mouse and keyboard.


LobbyGuard SL requires potential modifications to the Windows Power Options in order to ensure full-time use of the camera, bar code scanner and printer. If your network policy dictates these options please note that these policies may impact your use of the LobbyGuard SL product and will need to be modified for this PC.
Required Windows Settings: The .NET Framework 3.5 component in Windows must be enabled. In "Programs and Features" click on "Turn Windows Features On or Off", expand the .NET 3.5 option, and check all boxes. The latest Windows OS Service Pack must be installed, if not already. The computer needs to have its Power Options set to "High Performance". Next, edit this mode and expand "USB Selective Suspend Settings" in order to set it to Disabled. Change what pressing the power button does, setting it to Nothing and Disable Fast Start-up. Please refer to your IT personnel for assistance.
Hardware: The Zebra DS457 scanner, Logitech C525 webcam, and DYMO Badge Printer are all included with your SL package. The Zebra DS457 measures 5.25"H x 3.5"W x3.5"D. A 6ft USB cable is included for the scanner which will connect to the PC. The webcam measures 1.5" H x 2.50" W x 1"D, and has a USB connection that will connect to the PC. The printer measures 6"H x 5"W x 8"D. The location you wish to place the printer should allow at least 3" of clearance on all sides. The USB cable included for attaching the PC to the visitor badge printer measures 32" in length.
Power: The printer requires a single standard 110V power outlet, while the scanner and webcam will be powered via USB connected the PC provided.
Data Connectivity: Operation of the LobbyGuard SL requires uninterrupted access to the internet. Please note LobbyGuard does not support WIFI as a network interface. You must use an Ethernet cable.
LAN Connectivity and User Account: If you wish to join the LobbyGuard SL to your LAN/WAN you may do so as you would any other PC. You will need to install the software with a user that has FULL admin rights and UAC (user account control) FULLY disabled. Please refer to your IT personnel for assistance. Note: the SL needs full-time access to the internet and access to the servers listed below for successful operation.
Firewall Ports and Server Access: The SL communicates to LobbyGuard Cloud Services via firewall port 80 and port 443. The following servers must be made accessible / whitelisted for your SL to properly function:
*lobbyguard.net

*windows.net
Schedule your LobbyGuard SL Installation: Visit www.lobbyguard.com/schedule to set up a time for a LobbyGuard Technical Support Representative to remotely install the LobbyGuard SL software on your PC. Please note that failure to meet the above requirements will delay your installation.